I read my first Jack Reacher book this year. I think it was called "One Shot," but reading the descriptions I can scarcely be sure. I read it during lunch over about a week, and it was a perfect book for reading during lunch. Perhaps the best thing about it is that this Twitter thread came along at about the same time, and I felt in on the joke because I had read this book. If you like this kind of thing, this is definitely that kind of thing. Someone actually says "Get Reacher for me," which is kind of awesome. To be honest, I liked it well enough, but I'm not in a rush to read another one.
"Unbelievable: My Front-Row Seat to the Craziest Campaign in American History" is Katy Tur's behind-the-scenes memoir of covering the Trump campaign, and it's a pretty terrific read. She comes across as consistently human, which flies in the face of what seems on its face to be a glamorous lifestyle. She even meets a boyfriend on Tinder, which I thought was the kind of thing that only regular folks have to do. There are lots of hotel drinks, nasty tweets, boring flights and fascinating insights on what it was like to cover Trump's rise. Tur is a talented writer thrown into a historically unprecedented situation, and her story is breezy and worth a read.
Chris Hayes' "A Colony in a Nation" is a sober – and sobering – look at the on-the-ground societal implications of race in America. Hayes asserts that US laws claim to focus on freedom, but the actual effects often manifest in aggressive policing and civil rights violations that undermine the outcomes desired by all sides. It would be easy for a book like this to come across as a left-wing polemic, but the net effect is powerful and hopeful. It's not a long book, but it's well-researched, dense and very, very smart.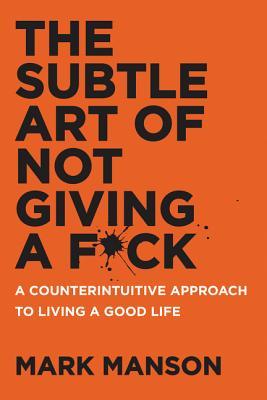 "The Subtle Art of Not Giving a Fuck," by Mark Manson, isn't remotely scientific, but it also doesn't really pretend to be. It's basically a blog post expanded to a full book, so don't feel like you really need to read the whole thing. The core message – that if you care too much about everything you can't really focus on the things that matter – is good enough advice, but by the end of the book it's been beaten well to death. I listened to the audiobook and the narrator seemed kind of smarmy, but that also fit the overall tone of the book. I agree with some aspects of the overall message, but it often felt like an article you'd find between pictorials in a Playboy.
Dave Eggers caught my attention years back with his fantastic, indulgent memoir "A Heartbreaking Work of Staggering Genius." Since then, he's cranked out a novel or narrative nonfiction work about once a year. This time around, it's "Heroes of the Frontier," a story of a woman who takes her children to Alaska to flee a failed marriage. Eggers is a consistently fascinating writer and has a rare ability to lovingly observe the positives and negatives in people. It's often the case that men have a difficult time writing women, but the lead in "Heroes" is a mostly convincing, deeply-written character trying to make good decisions and often making questionable ones.
Last for this quarter was Tom Rachman's "The Italian Teacher." I went to grad school with Tom, and following his career as an author fills me with a mixture of awe and, I'm not going to lie, a bit of jealousy. "The Italian Teacher" is a brilliantly-written novel tracking decades of a relationship between an overbearing, talented artist and his underperforming son, along with a sharply-drawn side case of friends, spouses and lovers. The book is full of awkwardly funny moments mixed with a palpable sense of melancholy over mistakes made and things left unsaid. Highly recommended.